Original Block Prints,  Matted 11 x 14″ 
Framed Block Prints
Scratchboard with Pigment
Original Block Prints,  Matted 8 x 10″ 
Framed Block Prints
Trompe l'Oeil
Acrylic Paint on Birch
THE WENDELL GILLEY MUSEUM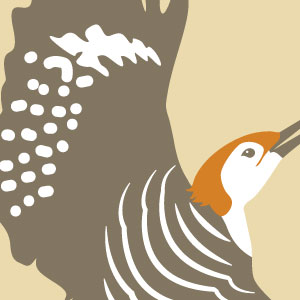 AVIAN ARTISTRY: TREASURES FROM MAINE COLLECTIONS
May 26 – August 17, 2023
Take a journey with Avian Artistry:Treasures from Maine Collections, one that begins in Maine then ranges through eras, geography, and styles. The result is a surprising—and very personal—story of community and the celebration of visual art. The exhibition includes more than 100 pieces from private collections in Maine, many of which have never before been exhibited in public.
Each work features a bird in some fashion, but the species represented are as diverse as the materials and styles used to create them. An iconic woodblock print from 1857 by Ando Hiroshige hangs near a contemporary sculpture from the 1960s of wood, wrought iron, and brass by Maine sculptor Rudolph Condon. In another room, intricately inlaid Japanese metalwork birds of the early 1900s accompany prints and acrylics from the 2020s.
Birds soar and swim, flutter and feed, dive and hide from room to room, in stone and paper, metal, ceramic, wood and paint, pencil, ink, and even photographs. Both wildly diverse and harmonious, Avian Artistry tells the story of generations of Maine people brought closer to nature by the work of artists born centuries apart, but all inspired by feathered muses.
The Wendell Gilley Museum is grateful to the passionate and generous people who have made Avian Artistry possible by lending treasures from their personal collections.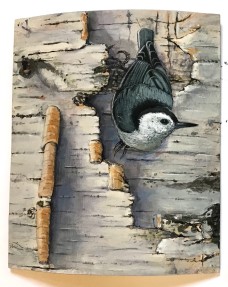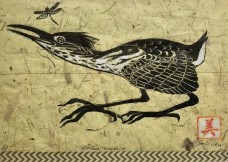 S U S A N   W I L D E R
Susan Wilder was born and raised in a small town in upstate New York. She received her BFA in Drawing from Pratt Institute in Brooklyn and went on to study Surface Design (Textile) at UCLA and completed a certificate in Scientific Illustration from California State University, Long Beach, California.
Her love of drawing has stayed the focal point of her work. She has taught extensively at the college level as well as informal workshops in both California and New England.  Susan served as a faculty member and the Dean at Heartwood College of Art in Biddeford, Maine.
"My practice embraces both abstract and representational styles, and includes a love of avian and botanical forms as well as a fascination for the regularity in pattern and ornamentation. Birds are a given, a magnificent reminder to live daily, both on the ground and in the air. Micro views of all living forms, Islamic geometry and even the dovetailing repetition in old wooden boats all highlight a perceptual sensitively to pattern recognition in my work. Connections solve puzzles…Coracle, Areole, Enso…We all live in a round world. Why not draw it?"
"It is as if in the predawn, before the light begins to lift edges into being, I am trying maybe, to paint holiness." (John Updike)
EDUCATION
1985 University of California, Los Angeles Surface Design (Textile)
1980-82 California State Univ., Long Beach, Certificate/Scientific Illustration
1969-73 Pratt Institute, Brooklyn, New York, BFA-Drawing
WORK EXPERIENCE
2004 to present – Dean of Admissions, Heartwood College of Art

Adjunct Professor in Drawing and Painting
Executive Assistant to the President

2006-Present Partner in LLC, Wholly Crow Gallery, Kennebunk, ME
1989 – 2004: Assistant Director –L.A. GOAL, Culver City, CA
Art Director, L.A. GOAL, Culver City, CA
Visual Art Director for Inside Out Productions and L.A. GOAL, a commercial art studio for artists with developmental Disabilities

Art Exhibition Curator
Instructor in Drawing and Painting

2004 to present: Exhibiting Artist Represented by The Wright Gallery, Cape Porpoise, Maine
1975-1978 Assistant Director/Faculty Newport Art Association School, Newport, RI Arts Administrator, Instructor in Drawing and Painting.
PUBLISHED ILLUSTRATIONS
"Bailey's Textbook of Histology" 18th Edition 1982 (2 medical drawings)
"A Romance of the Hands ~ A Palmestry Handbook" 1992 (All Illustrations)
"Disabled Fables" ~ Art Director 2004 Publisher: Starbright Books
SELECTED EXHIBITIONS
2009 Center for Maine Craft, West Gardiner, ME – "Pared Up, Paired Down"
2008 Kennebunk Free Library – "Winter Into Spring" (solo)
2006-9 The Kennebunk River Club, Kennebunkport, ME
2006-7 The Maritime Gallery, Mystic, CT  – "Mystic International" (juried)
River Tree Center for the Arts, Kennebunk – "Prelude to Spring"
L.A. GOAL, Culver City, CA – "Friends of LA GOAL"
Heartwood College of Art, Kennebunk, ME  – "Speak to the Color" (Faculty)
"Size Doesn't Matter" Juried
"The Boat" Juried
2005 Heartwood College of Art, Kennebunk, ME "WATERLOGUES" Solo
2001-3 TAG Gallery, Santa Monica, CA,
"SAFE HARBOR" Solo
"LIFEBOATS, a deconstruction" Solo
"AGAINST THE CURRENT" Solo
2000 Electric lodge, Venice CA "10 MILES IN" Solo
1997 Zeitgist Gallery, Nashville, Tennessee" Raise the Roof"
1995 Harding Academy, Nashville, Tennessee" The Harding Show 1995″
1992 Municipal Gallery, Burbank 17th Annual Multi-Media Juried Show"
Finegood Art Gallery, West Hills, CA "Emerging Perspectives/California Artists"
1990-1 Branstetter Gallery, Loma Linda University, Riverside "issue: Earth"
Lasorda Iri Gallery, CA "Inhabited Ruins-The Cave Drawings" Solo
"Not Your Usual landscape Show"
Long beach Art Association CA "Seven Western States"
1986 Los Angeles Municipal Gallery, CA, "The Magical Mystery Tour"
1984 The Oakland Museum, Oakland, CA, "Botanical Illustration-1984"
1976-8 Wadsworth Museum, Hartford, CT "Connecticut Academy of Fine Arts-Annual
Fall River Art Association Fall River, "Traditional Drawing"
Newport Art Association Newport RI ""64th Annual" Patrons Prize
Provincetown Art Association MA "2nd Annual Graphics"